See Us At TEDxBuffalo!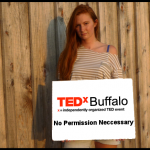 WHEN & WHERE
October 11, 2011
Montante Cultural Center Canisius College
Buffalo, NY
TED is a Global Platform Devoted to Ideas Worth Spreading.
TEDx is a locally organized event that focuses on individuals and innovation in various cities. The individuals involved with
TEDxBuffalo
have a passion for improving our region and believe in the power of ideas to change attitudes, lives and ultimately, the world.
Social Synergetics Excited About New Ideas and New Thinking
Excerpt from the Buffalo News: Lisa Matheson and Frank Coy are big TED fans and jumped at the chance to attend, and sponsor, a local TEDx event.

The Social Synergetics executives said they were inspired Tuesday to try to put on a TEDx in St. Catharines, Ont., where their company is based.

"I think this is a start -- this is the seed of something that the Niagara region on both sides of the border needs desperately. And that is a place where people of like minds but different disciplines can come together and mesh," Matheson said. More
John Bordynuik Speaks about Plastic2Oil at TEDx Buffalo
JBI, Inc. President & CEO, John Bordynuik, delivered an inspiring presentation at TEDx Buffalo on Tuesday, presenting his ideas on the future of recycling and how the Plastic2Oil process can help clean up the planet.
PLAY VIDEO >>>>
TEDxBuffalo is sponsored by
:

About TED

TED is a nonprofit organization devoted to Ideas Worth Spreading. Started as a four-day conference in California 25 years ago, TED has grown to support those world-changing ideas with multiple initiatives. The annual TED Conference invites the world's leading thinkers and doers to speak for 18 minutes. Their talks are then made available, free, at TED.com. TED speakers have included Bill Gates, Al Gore, Jane Goodall, Elizabeth Gilbert, Sir Richard Branson, Nandan Nilekani, Philippe Starck, Ngozi Okonjo-Iweala, Isabel Allende and UK Prime Minister Gordon Brown. The annual TED Conference takes place in Long Beach, California, with simulcast in Palm Springs; TEDGlobal is held each year in Oxford, UK. TED's media initiatives include TED.com, where new TEDTalks are posted daily, and the Open Translation Project, which provides subtitles and interactive transcripts as well as the ability for any TEDTalk to be translated by volunteers worldwide. TED has established the annual TED Prize, where exceptional individuals with a wish to change the world are given the opportunity to put their wishes into action; TEDx, which offers individuals or groups a way to host local, self-organized events around the world, and the TEDFellows program, helping world-changing innovators from around the globe to become part of the TED community and, with its help, amplify the impact of their remarkable projects and activities.
More information about TEDx is available on the official TED website,
HERE
.