Coming Fall 2012!
Management strategies from the most successful organization in one of the toughest environments around.
Since 1987, the
Shock Incarceration Program
managed for the New York State Department of Correctional Services by
Superintendent Ronald W. Moscicki
has saved the state of New York over $1.3 billion dollars.
With unparalleled programming success, including the highest GED acquisition rates in the country, extremely low recidivism rates, and tens of thousands of lives transformed into healthy, independent, contributing citizens, Shock is considered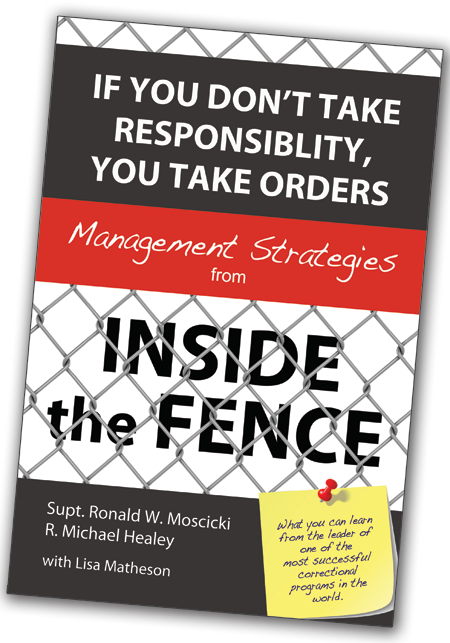 by many to be the best program of its type in the world.
Prison is a tough place to be. It's a tough place to work. And it's a really tough place to manage.
Over the years since he began his career as a corrections officer at Attica Correctional Facility, Superintendent Moscicki has developed a leadership and management style that has elevated him to the top tiers of the corrections industry.
Moscicki co-developed Shock using the
Social Synergetics Model
established by
Dr. Cheryl Clark
. Dr. Clark was the Director of Shock Incarercation and Moscicki's counterpart until her recent retirement from the State.
In conversation with
Michael Healey
, our Senior Synergetics Consultant, Superintendent Moscicki shares his unique management strategies.
If You Don't Take Responsibliity, You Take Orders
is a goldmine of interesting stories, solid, Synergetics-based management strategies and proof that anything can be accomplished in any environment.
Be the first to read an excerpt of this book. Complete the form below and we will email you a PDF file.