Curriculum For Evolving Leaders
Change or die. It's a principle of evolution ... including yours.

Staying where you are is not an option. There is no status quo in nature ... or in business.
What worked yesterday won't necessarily work tomorrow and leaders must evolve in order to stay current and relevant.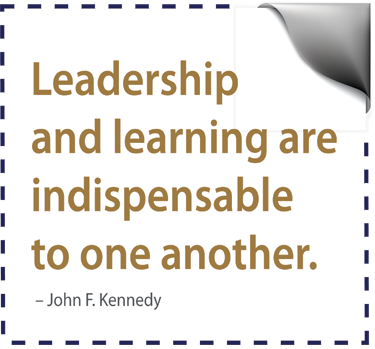 If you're not continually learning and prepared for the front line of your industry, you're not leading.
Leadership is mindset.

Leadership is a mindset – a way of thinking. The best leaders understand that a thoughtful approach to challenges has a far more effective impact than a technical approach.
And, to be proactive, leaders must have a mindset that will positively influence the growth of their people and their organization.
Our Curriculum for Evolving Leaders is targeted for individuals who have been in a management or leadership position for some time and are ready to go to the next level.
It offers Synergetics models for thinking and communication that provide the structure for maximum flexibility, innovative thought and creative breakthroughs.
Leadership evolution is about continuous feedback, assessment and fine-tuning.
At the core of this Curriculum is a coaching process which fine-tunes strategies for success thinking, along with the skills to translate it into passionate and compelling leadership action.
It goes beyond the classic
Key Leadership Competencies
by developing high level social and emotional intelligence and the skills for operationalizing vision.
The process results in a mindset where an enhanced awareness of self and others supports the ability to quickly distill a situation down to the core. With this in place, the ability to assess, think creatively and offer guidance for forward motion becomes second nature.
Individual or small group focus.

Providing the opportunity for your existing leaders to continue to grow may be the single most valuable step in their career development. And one of the best investments you can make.
In this development stream, we work with small groups or one-on-one to provide
coached development
.
Tailored to the specific needs of your leadership team within the structure of our
Synergetics Coaching Model
, your leaders will quickly evolve as the driving forces that will take your company to the next level.
It's exciting. It's motivating. And it really works.
Call us.